Albano 709 NEW PARTY clutch bag woman with silver lurex effect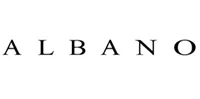 Albano Clutch Bag Woman
Outside material: Synthetic
Color: Silver
Inside Material: Fabric
Internal Organization: None
Closing: Mechanic clip
Width: 28 cm
Height: 14 cm
Depth: 4 cm
Shoulder Belt: Chain belt
Supplier Code: 709 NEW PARTY ARGENTO
Description:
Albano Spring Summer 2017
Albano presents its new Spring Summer 2017 and it introduces a line handbags elegant and refined look: clutch completely synthetic fabric woman covered with rhinestones and a material that has a very shiny silver lurex effect, on the front side this mechanical closure clip where you have to press the ends and lift the panel to be able to open, on it is also affixed to the manufacturer's logo; we do not find inside pockets, for which the setting and use of the space is at the user's discretion, also the bag is equipped with a shoulder strap to non-removable chain. Perfect for ceremonies!
Albano bags on YoungShoes!
Specific References
EAN13

11713

UPC

011713