NERO GIARDINI P717711D 100 BLACK women sandal with wedge in black leather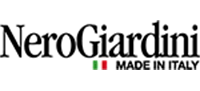 Nero Giardini Sandals Woman
Upper: Leather
Colour: Black
Lining: Leather
Sole: Rubber
Insole: Fixed
Fund: Leather
Closure: Bukle
Heel height: 8 cm
Plateau: 3,5 cm
Reference description at number 37
Description:
Nero Giardini Spring Summer 2017
Nero Giardini new footwear line from the Spring Summer 2017 collection, we present this beautiful black leather sandal, consisting of rectangular inserts that cross over to the toes and wrap the ankle, buckle closure on the outside metal-colored and logo maker on a Of side-by-side listings; The bottom is made of synthetic material, with a wedge with an 8 cm heel and a 3.5 cm plateau. Comfortable, lightweight and casual look perfect on everything, match it as you like and wake everyone up with Nero Giardini!
Nero Giardini shoes on YoungShoes!